Magic Single Tracks
See you in spring for an amazing long-distance extreme Cross Country race, the TRANSRIVIERA. This amazing event will take you from the mountains of TENDE to the beach of Menton for 95, 60 or 40km of the mosts fantastics single tracks of the Riviera, through rolling uphills and technical downhill single-tracks !
You will enjoy some of the best tracks of the french riviera, discovering breath-taking landscapes, from the mountains to the sea ! Take advantage of the professional organisation, with shuttle and luggage deposit to focus only on the ride !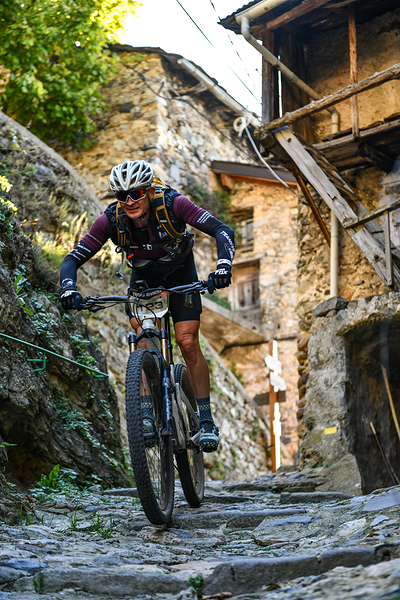 Friday
16h30 – 19h : frame plate withdrawal – Magasin CHULLANKA ANTIBES
Saturday
14h00 : Menton – Tende shuttle boarding – departure at 2:30pm, arrival around 16:15  (on demand +20€ with the registration)
16h00 – 18h45 : frame plate withdrawal / ebike battery deposit – TENDE
19h30 : briefing & dinner in Tende  (optionnal, to pay extra with the registration) 
SUNDAY
TRANSRIVIERA 95km – TENDE
5h30 : bus shuttle loading Menton – Tende – departure 6h00 (on demand +20€ with the registration)
7h30 – 8h15 : frame plate withdrawal Transriviera 95km (careful, we recommand you to pick it up before (friday in Antibes or Saturday in Tende for more fluidity) 
EBIKE
7h30 -8h00 : battery deposit / bike check – Loisibike booth
8h00 : e-riders entry on the starting lines
8h30 : Start e-TRANSRIVIERA 85km by Loisibike
Classic MTB
8h30 : Transv : riders entry on the starting lines
8h45 : Start TRANSRIVIERA 95km Tende – Menton
TRANSRIVIERA 60km  – BREIL SUR ROYA
7h00 : shuttle Menton  – Breil boarding : departure 7h30, arrival around 8h45   (on demand +20€ with the registration)
8h30-10h30 : frameplate TRANSRIVIERA 60km withdrawal, magasin Recycle2.d, Breil sur Roya
from 10h00 : riders entry on the starting lines
11h00 : start e-Transriviera 60km EBIKE
11h10 : start Transriviera 60km MTB
RANDO RIVIERA 40km – SOSPEL
7h00 : shuttle Menton  – SOSPEL boarding, departure 7h30, arrival around 8h30 (on demand +20€ with the registration)
8h30 – 9h30 : frameplate withdrawal – Sospel
from 9h to 10h : free starts Rando Riviera 40km Sospel Menton
From 11h30 : first arrivals and lunch at the finish in Menton
From 14h : Award ceremony
18h30 : end of the timing
19h : return shuttle to Tende (on demand, +25% with the registration)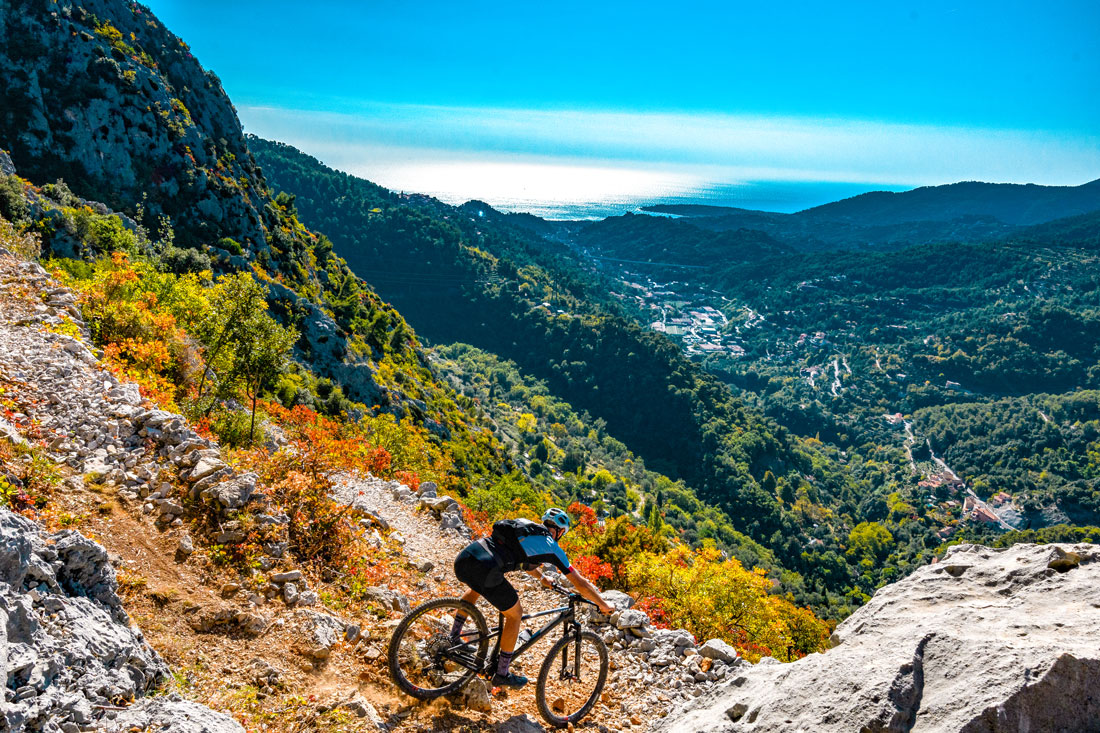 Where to sleep ? 
Hotel next to your start place (Sospel / Breil ou Tende) : there are several accomodation offers there (hotels, Airbnb, B&B…) that you will easily find online, or by calling the tourism office :

Tende : 04 83 93 98 82
Breil sur Roya : 04 83 93 98 34
Sospel : 04 83 93 95 70 

Transriviera accomodation package TENDE : if you prefer to live the Transriviera experience with all the others riders and you're not afraid of snoring we recommand you to camp with us and enjoy a nice great dinner all togehter (see details below)  
In MENTON :  you can also enjoy a nice evening on the sea side in Menton, where there are plenty of accomodation available and use our shuttle service early in the morning to drive you up to your start !
How to come to the start? 
Bus shuttle from MENTON : 
Format 95km :
Saturday : Menton-Tende : meeting at 2:00pm
Sunday MORNING : Menton-Tende meeting at 5:30am 
Sunday EVENING after the race : Menton-Tende leaving at 19h, or ealier if full
Format 60km :  shuttle Menton – Breil meeting 7h30
Rando 40km :  shuttle Menton – Sospel meeting7h30
TRANSRIVIERA ACCOMMODATION + FOOD PACKAGE 44€
With the consequences of the storm Alex, the offer of accommodation is quite reduced, do not delay to book. If you can't find an option for accommodation on Saturday night, we can propose, with the support of the Conseil Départemental and the Commune of Tende, to spend the night in :
the gymnasium of Saint Dalmas de Tende (4km from the start) :

Journey from the gymnasium to Tende for lunch and return to the gymnasium by shuttle bus on Saturday evening
Journey from the gym to the start in Tende: 4km +140m to be done by bike in the morning before departure
We will transport your belongings from the gym to the finish  (bring a closed bag with your number)
the municipal campsite of Tende (700m from the start)
Bring everything you need to spend the night (sleeping bag, sleeping mat, towel, camping tent etc.)
A hot dinner and a breakfast will be served in Tende (booking with the registration) 
Luggage delivery :
A luggage delivery is at your disposal. Leave your luggage with the organisation at the entrance to the gate (max. 8 kg, backpack type). Note your race number on the bag beforehand
The Train des Merveilles race !
A fabulous historic railway line links Nice to the valleys of the Bévéra and Roya! It's the ideal way to get to your departure point: low CO2 emissions, comfortable and picturesque!
Take advantage of this incredible rail connection to reach Tende or Breil sur Roya in an idyllic setting with the support of the Region SUD (Provence, Alpes Côte d'Azur) and SNCF TER which will specially double its trains and equip them to ensure the transport of your mountain bikes especially for you!
Saturday 6 may :

Nice Ville 14h58 :

Sospel arrivée 15h51

Breil arrivée 16h 

Tende arrivée 17h10

Sunday 7 may :

Nice Ville departure 7:23am
Sospel arrivée 8:19
Breil arrivée 8:32
TheTransriviera registration includes :
The participation to the TRANSRIVIERA race
The TRANSRIVIERA riders gift
Live timing with split times
Timing chip
Quality food stations
Hot meal at the finish and craft beer
Frame plate
Finisher medal
Technical assistance spot on track
Prize money for winners and gift for all category winners
Rescue services
Cancellation insurance (conditions) : +11.5% of the total
Multisport insurance  : 6€/j
Accomodation package : to be confirmed
Sunday companion meal at the finish : 20€
Battery rental : Loisibike Côte d'Azur 04 93 36 47 96
Bus shuttle from MENTON : 
Format 95km :
Saturday : Menton-Tende : meeting at 2:00pm
Sunday MORNING : Menton-Tende meeting at 5:30am 
Sunday EVENING after the race : Menton-Tende leaving at 19h, or ealier if full
Format 60km :  shuttle Menton – Breil meeting 7h30
Rando 40km :  shuttle Menton – Sospel meeting7h30
a helmet
gloves
a cell phone
a food supply
a water supply – 1.5 l minimum
Survival blanket
whistle
a windbreaker
number plate complete with flap card and number with chip
A lamp (headlamp or ideally on the handlebars)
Time barriers
For your safety, time limits are set beyond which the competitor is no longer beyond which the competitor is not allowed to continue the race. After the time limit, the plate will be crossed  out and a discharge will be filled in if you want to keep going under your own responsibility
​