See you on the 15th of may for an amazing long-distance extreme Cross Country race, the TRANSRIVIERA. This amazing event will take you from the mountains of TENDE to the beach of Menton for 70km of the mosts fantastics single tracks of the Riviera, through rolling uphills and technical downhill single-tracks ! 
You will enjoy some of the best tracks of the french riviera, discovering breath-taking landscapes, from the mountains to the sea ! Take advantage of the professional organisation, with shuttle and luggage deposit to focus only on the ride !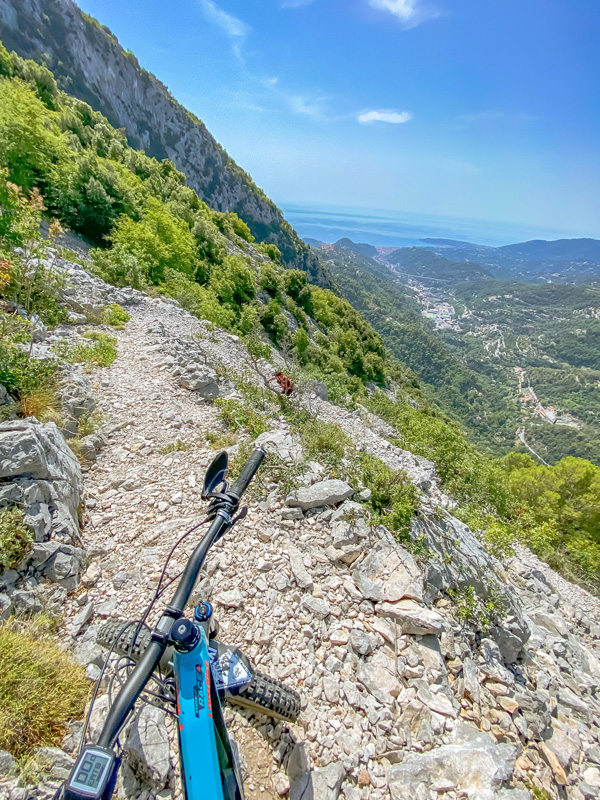 Friday
16h30 – 19h : frame plate withdrawal – Magasin CHULLANKA ANTIBES (sanitary pass mandatory)
Saturday
15h30 : Menton – Tende shuttle boarding – departure at 4pm, arrival around 6:00 / 6:30pm (on demand +20€ with the registration)
16h00 – 19h15 : frame plate withdrawal – TENDE (sanitary pass mandatory)
19h30 : Dinner in Tende for all the registered riders and companions (+15€/pers with the registration)
Sunday

TRANSRIVIERA 70km – TENDE
7h30 : riders entry on the starting lines
8h00 : e-Trans EBIKE : battery deposit
8h00 : Start TRANSRIVIERA 70km Tende – Menton
8h30 : e-riders entry on the starting lines
9h00 : Start e-TRANSRIVIERA by Loisibike (ebikes)
TRANSRIVIERA 40km – BREIL SUR ROYA
7h00 : Menton – Breil sur Roya shuttle boarding – departure at 7h30, arrival around 9:30am (on demand +20€ with the registration)
8h30-10h00 : TRANSRIVIERA 40km frameplate withdrawal (sanitary pass mandatory)
10h00 : Mise en grille
10h30 : Start Transriviera 40km Breil – Menton
From13h : first arrivals and lunch at the finish in Menton
From 14h : Award ceremony
18h30 : end of the timing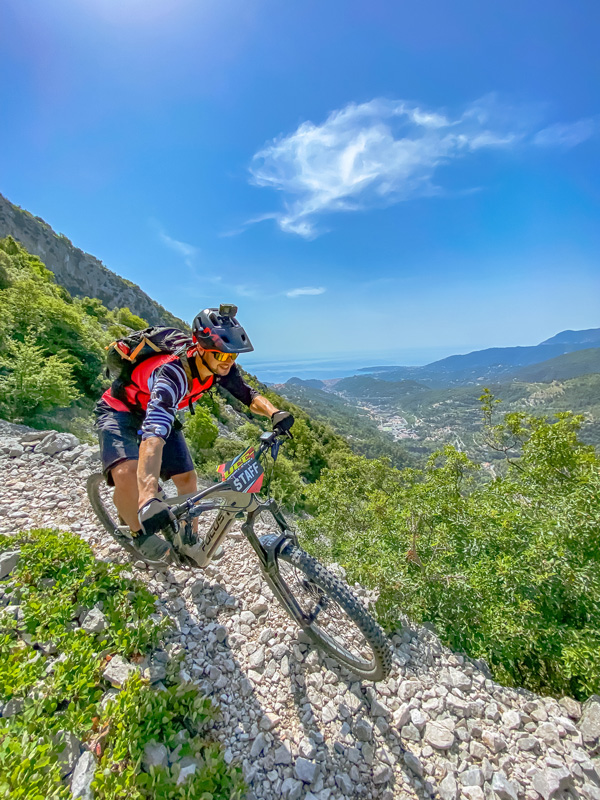 A race format for everyone
TRANSRIVIERA 70km : 70km +2500m -3300m
From TENDE, Au départ de TENDE, discover the most beautiful but also the most demanding paths of the Riviera, up and town to Menton.
Between these two extraordinary points, you will get to enjoy a breathtaking route both for its technical interest and for the sublime landscapes of plains, valleys and forests crossed. You might even be riding through some WW2 blockhaus !
e-Trans Riviera by Loisibike : 70km +2500m -3300m
Of course this event is open to ebikes, 2 batteries ar allowed, the change is handled by the organisation at mid-race
1st battery : 40km +1500m -1700m
2nd battery : 30km +1000m -1300m
Two race group according to the batteries
E-BIKE 500 : autonomy on the bike less than or equal to 500Wh
E-BIKE 500 Plus : autonomy on the bike superior to 500Wh
TRANSRIVIERA 40km :

40km +1500m -1800m
Willing to get a taste of the TRANSRIVIERA adventure without to deal with the long distance track? Start at the middle of the race track, in Breil sur Roya and enjoy the last part of the race, which is the best one ! Ebikes are also welcome, no battery control.
NEW / OPTION e-RANDO, no timing, no battery limit, only the challenge to get to the finish line in time !
INDIVIDUAL OR TEAM SPIRIT? 
Alone we go faster, together we go further!
Transriviera DUO
 

:registration in teams of two !

Two of us are stronger! Support your teammate until the finish line to try to win the DUO. Mutual assistance will be essential because it is the time of the second to cross the finish line that will count for the pair, to which will be added, if any, the "solidarity gap" between the two team members. This new calculation formula will encourage DUOS to stay together until the finish line, for better or for worse 😉 Each rider in the duo will also be individually classified in the overall classification.
CATEGORY : 

Male / Female / Mixte / EBIKE 
La participation à la course
Le chronométrage en live avec temps intermédiaires
La puce chrono sans caution
Les ravitaillements
Le repas à l'arrivée du dimanche
Le cadeau
Plaque de cadre, dossard et stickers finisher
L'accès aux postes d'assistance technique sur le parcours
Les prize moneys et lots pour les vainqueurs scratch et catégories
Le dispositif de secours
Assurance Annulation (sans conditions jusqu'au lundi précédent la course minuit) : 6€
Assurance Multisport  : 6€/j
Repas accompagnateur dimanche : 12€
Location de batterie : 20€ via Loisibike.com
Luggage delivery :  
A luggage delivery is at your disposal. Leave your luggage with the organisation at the entrance to the gate (max. 8 kg, backpack type). Note your race number on the bag beforehand.
E-Bike: hand in your charged and marked spare battery to the UCC Staff 40 minutes before the start time
un casque
des gants
un téléphone cellulaire
une réserve alimentaire
une réserve d'eau – 1,5 l minimum
une couverture de survie
un sifflet
un coupe-vent
plaque de N° complète avec Rabat Carte et dossard avec puce
La mise hors course
Pour votre sécurité, des portes horaires sont fixées au-delà desquelles le concurrent n'est plus autorisé à poursuivre la course. Après l'heure limite de passage, la plaque sera barrée et une décharge sera remplie.