MEGAVALANCHE 2020 CANCELLED – Replacement event : Super Maxiavalanche Alpe d'Huez 31 july / 1st & 2nd of august 2020]
We had hoped to be able to maintain the 25th anniversary of the Megavalanche de l'Alpe d'Huez this summer, but to date the prospects for international travel, large-scale gatherings and the sanitary measures imposed do not allow us to envisage holding this major event in good conditions.
The organizing committee, in agreement with Alpe d'Huez, has therefore decided, reluctantly, to cancel the Megavalanche 2020.
But as they say, the king is dead, long live the king! We are happy to announce you that we'll organize from July 31st to August 2nd, the "Super Maxiavalanche of Alpe d'Huez", to offer you your dose of alpine sensation in the Marathon Downhill of the year!
On the programme, two qualifying runs (Friday and Saturday afternoon) and two race runs on Sunday, by level groups ! All the details of this new event, as well as the registrations link will be sent to you as soon as possible! However, registration will be limited to 800 participants, in order to reduce the risks and the queue at the lifts. So stay tuned and register asap if you want to get your spot.
All registrations for the Megavalanche 2020 will be refunded (less the 6€ cancellation insurance, which we grant to all registered participants).
We hope to be able to count you among us on August 2nd for this Super Maxiavalanche, and all the more so to celebrate the 25th +1 anniversary of the Mega in 2021 (dates to be confirmed)!
Until then, be well, keep riding and have fun on the trails!
The UCC team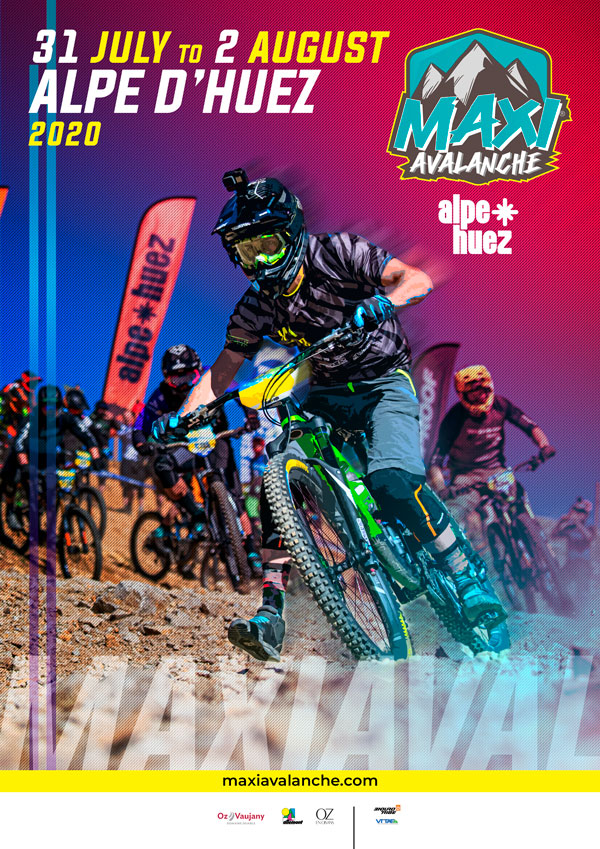 For those who would still ignore it, the Megavalanche Alpe d'Huez is one of the most famous and not-to-be missed DH marathon race.
Since 1995, each year, thousands of riders take the departure from the famous "Pic Blanc" ;  in every weather condition !  Its Mass Start at 3330 meters high on the glacier and its finish line in Allemont, 2600 meters down, makes this DH Marathon race the longest and craziest race in the world !
In addition to this race will be held the MEGA KID, especially for children. Electric Bike riders will also be pleased with a dedicated start and ranking!
So? Are you ready to compete the famous MEGAVALANCHE?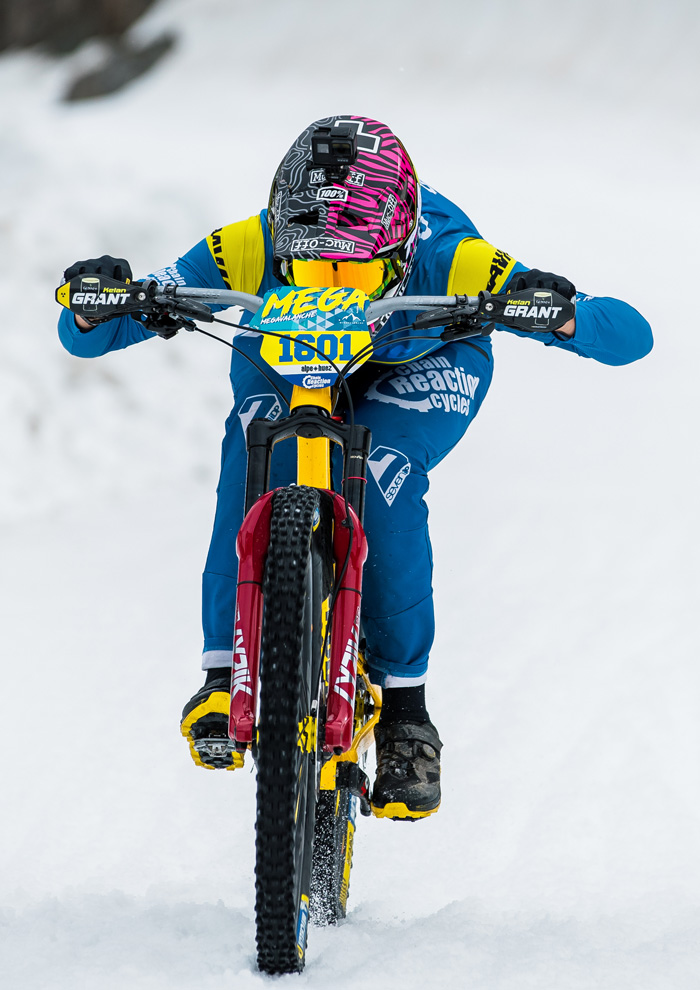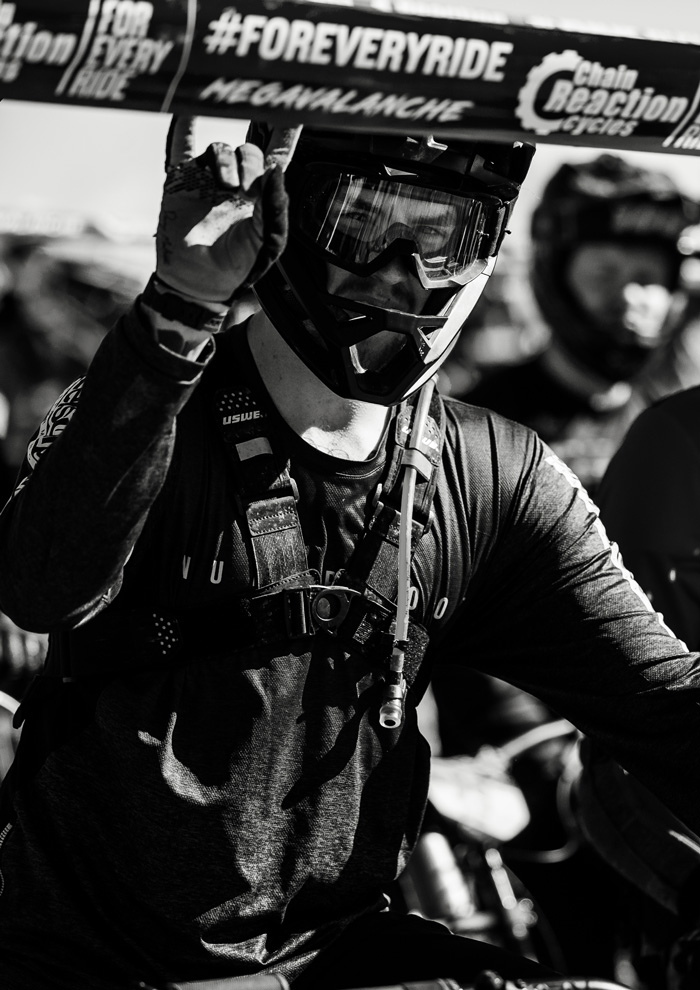 This error message is only visible to WordPress admins
Error: API requests are being delayed for this account. New posts will not be retrieved.
Log in as an administrator and view the Instagram Feed settings page for more details.
Saturday, july the 4th
Beginning of the MEGAVALANCHE 9 days liftpass
Tuesday, July the 7th
2:00pm – 6 pm :  ENDURO OZ Frame plate withdrawal and lift pass collect – Place du Cognet – Alpe d'Huez
Wednesday, July the 8th : Enduro Oz en Oisans
MEGAVALANCHE free training on all tracks
8.30am – 6pm : Expo&Tec Village. MEGAVALANCHE Frame plate withdrawal and lift pass collect – Place du Cognet – Alpe d'Huez
9h30: Start Enduro d'Oz – Oz station
12h00: BBQ Enduro d'Oz (for registered riders only)
13h00: award ceremony Enduro d'Oz
Thursday, July the 9th
MEGAVALANCHE free training on all tracks
8am – 7pm : Frame plate withdrawal and lift pass collect – Place du Cognet – Alpe d'Huez
9am – 6pm : Expo&Tec Village – Alpe d'Huez
2:00 – 4:30pm : Chainless Race & VINTAGE race – DMC 2100 
5.00 am : Aperitif on Expo Village
Friday, July the 10th
Qualifying Megavalanche & Mega KID
9am – 6pm : Expo&Tec Village
10.00am Wave 1 n° 1 à 150
10.15am Wave 2 n° 201 à 350
10.30am Wave 3 n° 401 à 550
10.45am Wave 4 n° 601 à 750
11.00am Wave 5 n° 801 à 950
11.15am Wave 6 n° 1001 à 1150
11.30am Wave 7 n° 1201 à 1350
11.45am Wave 8 n° 1401 à 1550
12.00pm Wave 9 n° 1601 à 1750
12.15pm Wave 10 n° 1801 à 1950
12.30pm Wave Ladies n° 2001 à 2065
12.30pm Wave E-MEGA by Loisibike n° 2001 à 2065
13.15pm Wave MEGA KIDS  n° 2101 à 2160
From 12pm : Energetic Buffet  on arrival – Place du Cognet – Alpe d'Huez ;
6.00pm : Welcome drink  – Place du Cognet – Alpe d'Huez
7 – 7.30pm : Results of the qualification and MEGAKID –Place du Cognet – Alpe d'Huez ;
Sticker withdrawal for all participant including MEGA Affinity, except row A. Bring your ID or licence.
Saturday, July the 11th
EBIKE, Mega Ladies, Challenger & Affinity 1
09:00am : Start E-MEGA by Loisibike
09:15am : Start MEGA LADIES
09:30am : Start MEGA CHALLENGERS (from the 39th till the 77th)
From 09:45am : Affinity 1 – Start upon arrivals.
10:30am : Glacier closing
10:30am /14:30am : Finish in Allemond and free Buffet.
Award Ceremony – Place du Cognet – Alpe d'Huez 
Sunday, July the 12th
MEGAVALANCHE, Mega Amateurs
Start from Pic Blanc (3.300m) – Arrival (Allemont 850m)
Lift pass compulsory – From 6am Boarding at the DMC by letter order
09:00am : Start MEGAVALANCHE from 1st to 35th of each qualification wave.
09:30am : Start MEGA AMATEURS from 71th to 94th of each qualification wave.
10:30am : Glacier closing
10:30am/ 2:30pm : Arrival in Allemond and free Buffet – Award Ceremony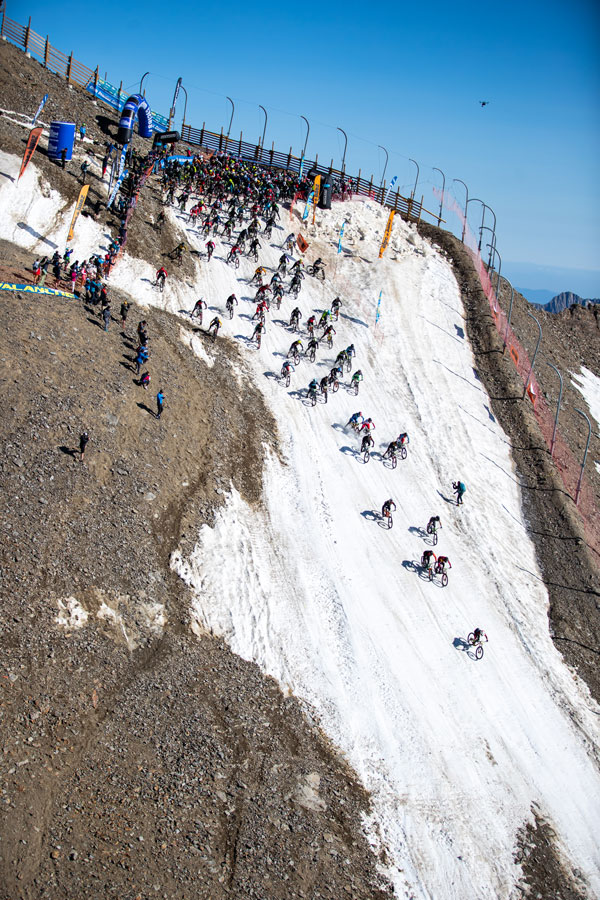 The Megavalanche frame plate and number
Disposable timing chip
Live timing, results and diploma
The liftpass
Assistance area
Liquid and food station on friday
Aperitif drink thursday and friday
Lunch saturday or sunday at the finish
124,50€*
 with 9/8 days liftpass
120€*
with 7/6 days liftpass
110,50€*
with 5/4days liftpass
MEGA KID 49,50€*
with 7days liftpass
*Early birds rates, increase from 10th of january
Oz Enduro registration (20€)
Chainless Race: included
Companion liftpass
Cancellation insurance (6€)
Multisport insurance (4€/day)
Megavalanche Jersey  (39€)
Megavalanche T-shirt (19€)
Megavalanche Sweat Shirt  (39€)
Mégavalanche AVS hand protector (39€)
A great enduro on the Oz en Oisand tracks to warm up before the D-Day and have fun on the bike!
– Frame plate
– 3 timed stages
– BBQ & concert at the finish
10th & 11th July
Prologue friday 6th : Seeding Run from Dôme des Rousses
Race saturday 7th: Mass-Start from the glacier on the classic MEGA track
Same rates and conditions as the classic Mega
Rate 49,50€ : Race plate + Lift pass 7 days
Benjamins & Minimes : Start DMC 2700
Poussins & Pupilles : Start between DMC 2700 & 2100
For the 25th Megavalanche anniversary : VINTAGE RACE on the Run DMC track thursday afternoon : old bike, old clothes, fun before all!
Free starts, several attempts authorized
Awards :
The oldest bike
The most unfashionable style
The most fluo outfit
The nicest moustache (men and women ! )
3 first scratch, male and female
TRAVEL
How to fly to Alpe d'Huez ?
The nearest airport is Grenoble, but the biggest nearest airport is Geneva in switzerland. We do not organize specific shuttle from any airports, the easiest is to rent a car there
What accodomation should i rent?
Alpe d'Huez
Oz en Oisan (connected by lift to Alpe d'Huez)
Rules
What happens to me if I do not "qualified"?
Everybody gets qualified for the race, you will all race from the glacier, whether saturday OR sunday, in the level group in which you've been qualified friday
MEGAVALANCHE group (sunday) : the 350 bests riders (from 1st to 35th of each qualification wave)
CHALLENGERS group (saturday) : from 36th to 70th of each qualification wave
AMATEURS group (sunday) : from 71st to 94th of each qualification wave
AFFINITY group (saturday, individual start) : from the 95th to 130th of each qualification wave
Ladies and e-bikes have their specific start saturday morning
Read the full rules here
Practical information
Where to wash the bike ?
At the DMC Gondola start – Roundabout des Pistes in Alpe d'Huez
Where to collect your lift Pass ?
9, 8, 7 or 6 days Pass : At the lift cashier (Alpe d'Huez)
Wednesday or Thursay/Sunday : At the Race Office Sport Center Alpe d'Huez. Bring back your lift pass at the end of the week to the lift cashier (Alpe d'Huez or Oz) to get your 2 € deposit refund.
Where to collect your race number ?
At the Race Office situated : Sport Center Alpe d'Huez
Wednesday : 8.30am – 6pm and Thursday : 8am – 7pm
Caution ! No race number can be collected Friday morning
Where to take a shower ?
From Monday : At Sport Center Alpe d'Huez
Where to get rescue service from Wednesday to Saturday ?
At the DMC Gondola start, roundabout des Pistes in Alpe d'Huez
Where can your friends come and see you on Friday ?
At the resort before the finish in Alpe d'Huez
On Saturday & Sunday ?
Under the DMC  2100m: 9.15am
When they crossed the "Village de Sardone": 9.20am
At the arrival in Allemont, from: 9.50am
Where to collect your clothes left on departure area ?
Stand Shop Avalanche
For Friday races: Palais des Congrès 7pm
For the Mega Saturday & Sunday: Arrival in Allemont
Forgoten clothes will be stored in the Tourism Office for one week after the event, past this date you won't be able to get them back
Do not leave any value item. The organization is not responsible in case of any problems and theft
Where to watch for the results ?
www.megavalanche.com or www.timingzone.com from Saturday afternoon
Where to buy your pictures ?
On the expo and tech area every day from 5pm to 6pm
on www.inovphoto.com
1995 : François DOLA 1996 : Fabrice TAILLEFER 1997 : Fabrice TAILLEFER 1998 : Samuel PERIDY 1999 : François DOLA 2000 : Alex BALAUD 2001 : René WILDHABER 2002 : René WILDHABER 2003 : René WILDHABER 2004 : René WILDHABER 2005 : Jérôme CLEMENTZ 2006 : Nicolas VOUILLOZ 2007 : René WILDHABER 2008 : René WILDHABER 2009 : Rémy ABSALON 2010 : Jérôme CLEMENTZ 2011 : Rémy ABSALON 2012 : Rémy ABSALON 2013 : Jérôme CLEMENTZ