Gravel in Vésubie by Transvésubienne and SRX
To celebrate its 35th anniversary, on 24 September the Transvésubienne will be welcoming a new member of the outdoor cycling family: the Gravel. The organisers of this historic race have come up with a route that will delight all Gravel enthusiasts, who will be able to join the new SRX category, open exclusively to non-suspended and semi-rigid bikes, in a separate classification.
The Gravel en Vésubie by Transvésubienne will set off from St Martin Vésubie on a 110km long journey covering almost 3,400 D+ and 4,100 D-.
This all-round race will be a test of strength and endurance, as well as skill and daring, through mountains, valleys and forests.
For all those who cross the finish line in Nice, after climbing the Pic de Colmiane, the Col de Turini, St Michel and Châteauneuf, this route will mark the beginning of their sporting passion.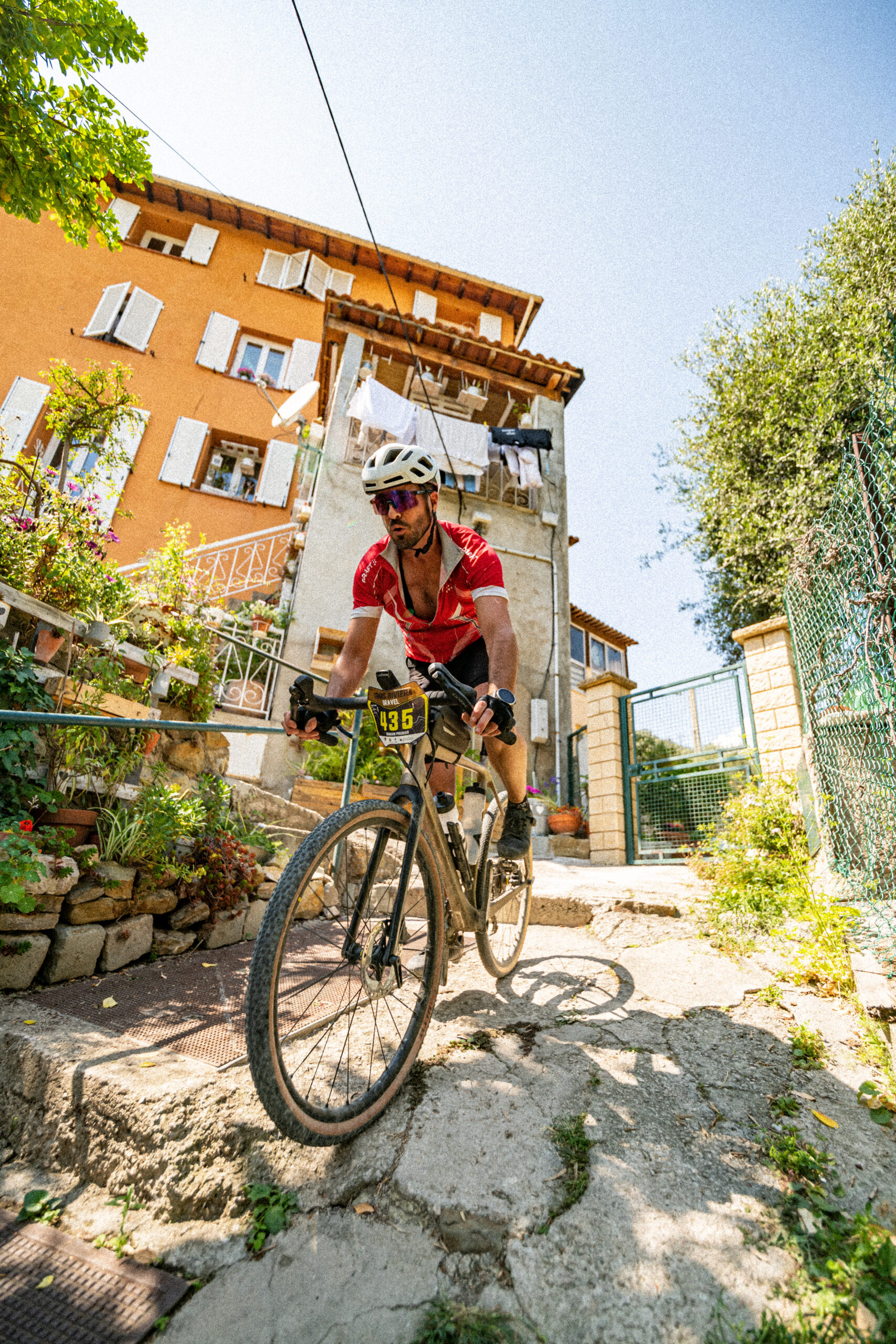 Friday
4.30pm – 7pm: Plate collection – CHULLANKA ANTIBES shop
(Please note that the shop is not responsible for the collection of plates and we will only be there at these times, so there is no need to go at other times)
Saturday 
4pm: Departure of the Nice – Saint Martin shuttle bus (booking required, €23, loading at 3.30pm, free parking, stade de la Lauvette)
4.00 pm – 6.45 pm: Collection of number plates – Saint Martin
Sunday
GRAVEL IN VESUBIE & SRX – SAINT MARTIN 
5.00am: loading of the Nice – Saint Martin shuttle bus – departure 5.40am (Stade de la Lauvette) (booking required, €23 at registration)
8.30am: Compulsory presence in the closed park – Start on the grid
9am: Departure from GRAVEL in Vésubie – Saint Martin
RANDO Gravel and SRX – Col de Turini 
7.00am: Loading of the Nice – Turini shuttle bus – departure 7.30am (Stade de la Lauvette), estimated arrival 8.30am (reservation required, €23 at registration)
9.00am – 9.40am: Handing in of badges
10.40am: Ride starts
12.30pm: First estimated arrivals in Nice (Stade de la Lauvette)
From 2pm: Official ceremony
6.30pm: End of timing
94 km / 2400 D+ et 3100 D+

RANDO GRAVEL :  46km / +1050m / -2400m
Col de Turini – Nice
Enjoy a great day out on Sunday, starting halfway up the famous Col de Turini!
Participation in the race
Live timing with split times
Time chip without deposit
Refreshments
Meal at the finish on Sunday
Prize pack
Frame plate, race number and finisher's medal
Access to technical assistance posts on the course
Prize moneys and prizes for overall and category winners
First aid kit
Hot showers at the finish
No bike wash at the finish
Cancellation insurance:+11.5% of the total amount (See conditions)
Multisport insurance: €7/day
Accompanying meal on Sunday: €19
Battery hire: via Loisibike.com
Shuttles
From Nice :
SATURDAY meeting 3.30 pm Nice – Saint Martin Vésubie
GO SUNDAY 5.30am Nice – Saint Martin Vésubie
GO SUNDAY meeting 7:00 Nice – Turini
Bag locker:
A baggage locker is available. Leave your luggage with the organisers at the entrance to the gate (maximum 8 kg, rucksack type). Make a note of your race number on the bag beforehand.
a helmet
gloves
a mobile phone
the Transvésubienne guide (distributed with your badge)
a food reserve
water supply – 1.5 litres minimum
Survival blanket
a whistle
windbreaker
number plate complete with chip
Time gates
For your safety, time limits have been set beyond which the competitor is no longer authorised to continue the race (including for the "rando vésubienne" option). After the time limit, the plate will be crossed out and a discharge will be filled in.
2023 timetable to be confirmed