1988 marks the first edition of this event which is nowadays a reference. A MTB race connecting la Colmiane to Nice on a super technical and physical trail which, at that time, was nearly impossible considering the existing biking gear of those years.
Nowadays, reaching the 80km of the race is still a real challenge and rigorous training is needed in order to become a finisher.
From the mountains
to the sea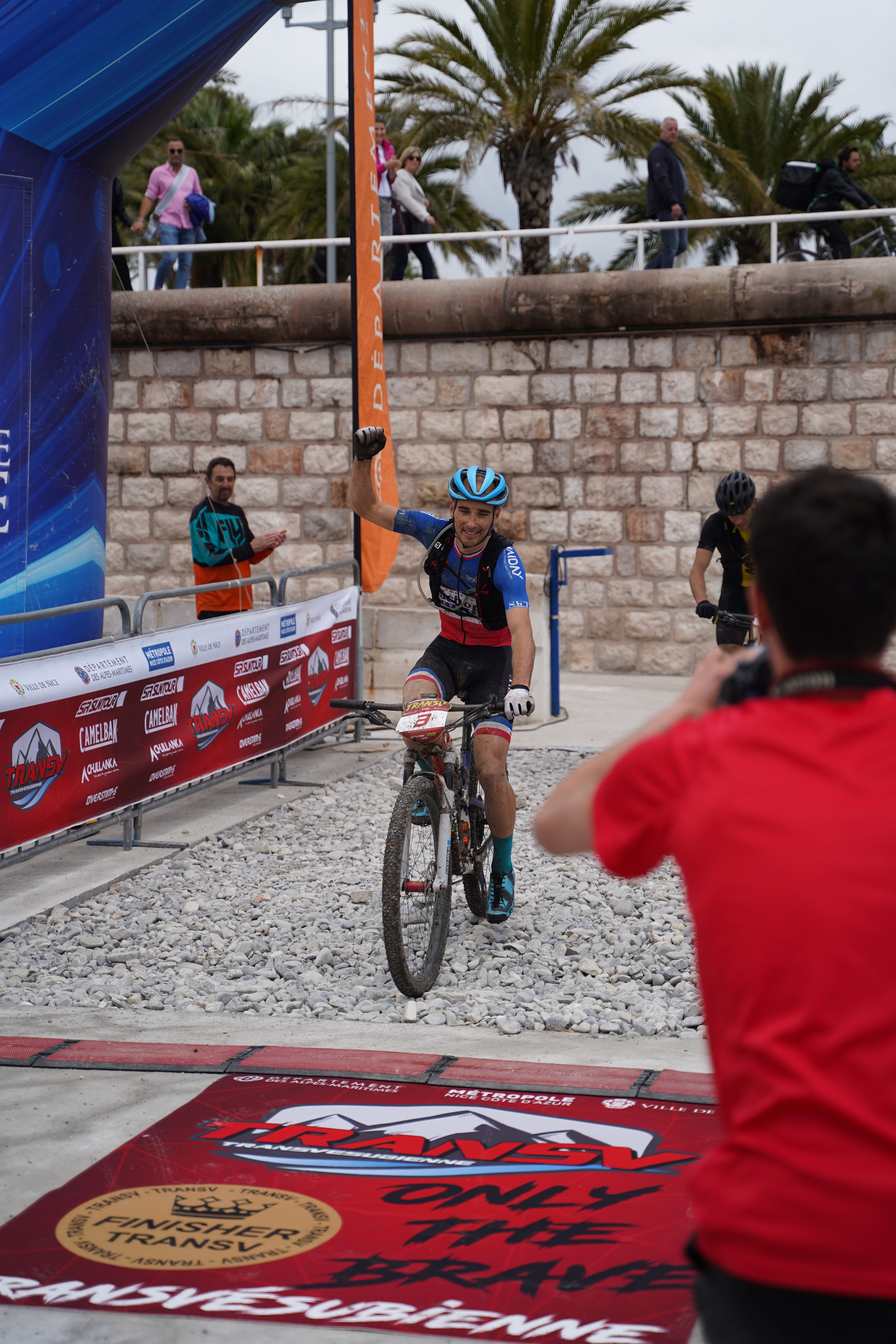 Friday
16h30 – 19h : frame plate withdrawal – CHULLANKA ANTIBES 
Saturday – Prologue: La Colmiane – Saint Martin Vésubie

08h : Departure of the shuttle Nice (Lauvette Stadium) – la Colmiane (booking 20€, loading at 7h30)
10h – 12h30 : frame plate withdrawal and e-bike technical controls – la Colmiane
10h – 13h : Free practice of the course
10h-20h : Free access to the Vésubia Mountain Park swimming pool for registered riders (upon presentation of the invitation, bathing cap and swimsuit required)
14h – 15h30 : Prologue starts by waves of 20 riders every 5 minutes, in descending order of numbers
14h15 – 16h30 : Arrivals in Saint Martin Vésubie
16h – 18h30 : frame plate withdrawal Transv and TRANS 50 – Saint Martin Vésubie
16h00 : Podium, briefing and aperitif at Vésubia Mountain Park
15h30 / 17h30 : Shuttles in rotation Saint Martin – La Colmiane (booking 5€)
Sunday – Transvésubienne and Trans 50
30mn before start: Mandatory presence on the starting line – Grid setting
6h30 : Start Transvésubienne – La Colmiane
6h45 : e-Transv by Loisibike : Battery storage
7h15 : Start e-Transvésubienne by Loisibike – La Colmiane
TRANS50 – La Giandola
8h10 – 9h10 : TRANS50 frame plate withdrawal in la Giandola
9h20 – Trans50 : Mandatory presence in the closed park – Grid setting
9h45 : Start Trans50 
12h : Estimated arrivals
From 14h : Awards ceremony
From 15h : Departure of the shuttles Nice – Giandola – La Colmiane (booking 20€, departure once full)
18h30 : End of timing
A bag deposit is at your disposal. Entrust your luggage to the organization at the entrance of the gate (8 kg maximum, backpack type). Write your bib number on the bag beforehand.
E-Bike: Leave your charged and marked spare battery with the UCC Staff 40 minutes before the departure time
Transvésubienne : 85km/ +2900m / -4150m
Only the brave ! 
Registration fee : from 70€
e-Transvésubienne by Loisibike : 85km/ +2900m / -4150m
Only the brave ! 
The classic, but in the EBIKE category, two batteries authorized to overcome the historic course.
1st battery : 40km +1500m / 2nd battery 45km +1400m
Two classes :
E-BIKE 500 : autonomy on the bike less than or equal to 500Wh
E-BIKE 500 Plus : autonomy on the superior bike 500Wh
Registration fee : from 70€
TRANS 50 : 50km / +1800m / -1900m
Enjoy a unique and beautiful day of racing on Sunday from Levens, with a specially designed loop for you before joining the Transvésubienne course to Nice.
Open to ebike
Registration fee : from 39€
With my best ridding mate !
Transv DUO :registration in teams of two on the Transvésubienne or TRANS 50
Two of us are stronger! Support your teammate until the finish line to try to win the DUO. Mutual assistance will be essential because it is the time of the second to cross the finish line that will count for the pair, to which will be added, if any, the "solidarity gap" between the two team members. This new calculation formula will encourage DUOS to stay together until the finish line, for better or for worse 😉 Each rider in the duo will also be individually classified in the overall classification.
Registration fee for the pair : from 139€ (Transvésubienne) and 78€ (TRANS50)
My registration includes :
Participation to the race
Live timing with intermediate timing
The disposable time chip
Food stations
Saturday evening aperitif
Hot meal and beer on arrival on Sunday
The Transvesubienne gift
Frame plate and finisher stickers
Access to technical assistance stations along the route
Prize moneys and awards for scratch and categories winners 
Participation in the rescue system
Cancellation insurance (no conditions until Monday, May 25th at midnight) : 6€
Multisport insurance : 4€/day
Shuttle Nice-La Colmiane Saturday morning or Sunday after the race : 20€
Shuttle Saint Martin – La Colmiane after the prologue : 5€ (bus taken care of by Saint Martin, only the transport of bicycles is charged)
Companion meal on Sunday : 12€
Battery rental : 20€ via Loisibike.com
a helmet
long gloves
a cell phone
the Transvesubienne guide (distributed with your plate)
some snacks
a water supply – 1.5 l minimum
a survival blanket
a whistle
a windproof jacket
complete number plate with Card Flap and timing bip
a lamp for the tunnel (front or handlebar)
Time limit and disqualification
For your safety, time zones are set beyond which the competitor is no longer allowed to continue the race. After the cut-off time, the plate will be crossed out and a discharge will be filled.
Saturday morning – 8h
Nice, la Lauvette> La Colmiane, 20€
We strongly recommand you to take this shuttle instead of the after-race one of sunday, so you have your own vehicule available in Nice to leave whenever you feel to after your race, and avoid to lose a long time waiting for the shuttle and spending two hours on the road to get back to your car.
Sunday afternoon (after the prologue, departure when the shuttles are full)
Saint-Martin Vésubie > La Colmiane, 5€
(bus taken care of by Saint Martin, only the transport of bicycles is charged)
Sunday (after the race, departure when the shuttles are full)
Nice > Giandola >  La Colmiane, 20€
Waiting time for these shuttles can be long, adding to that the two hours of driving back to la Colmiane. We suggest that you take saturday morning shuttle and enjoy our bag deposit to get your belongings and clean clothers back to the finish line.
Résultats dimanche 15 mai